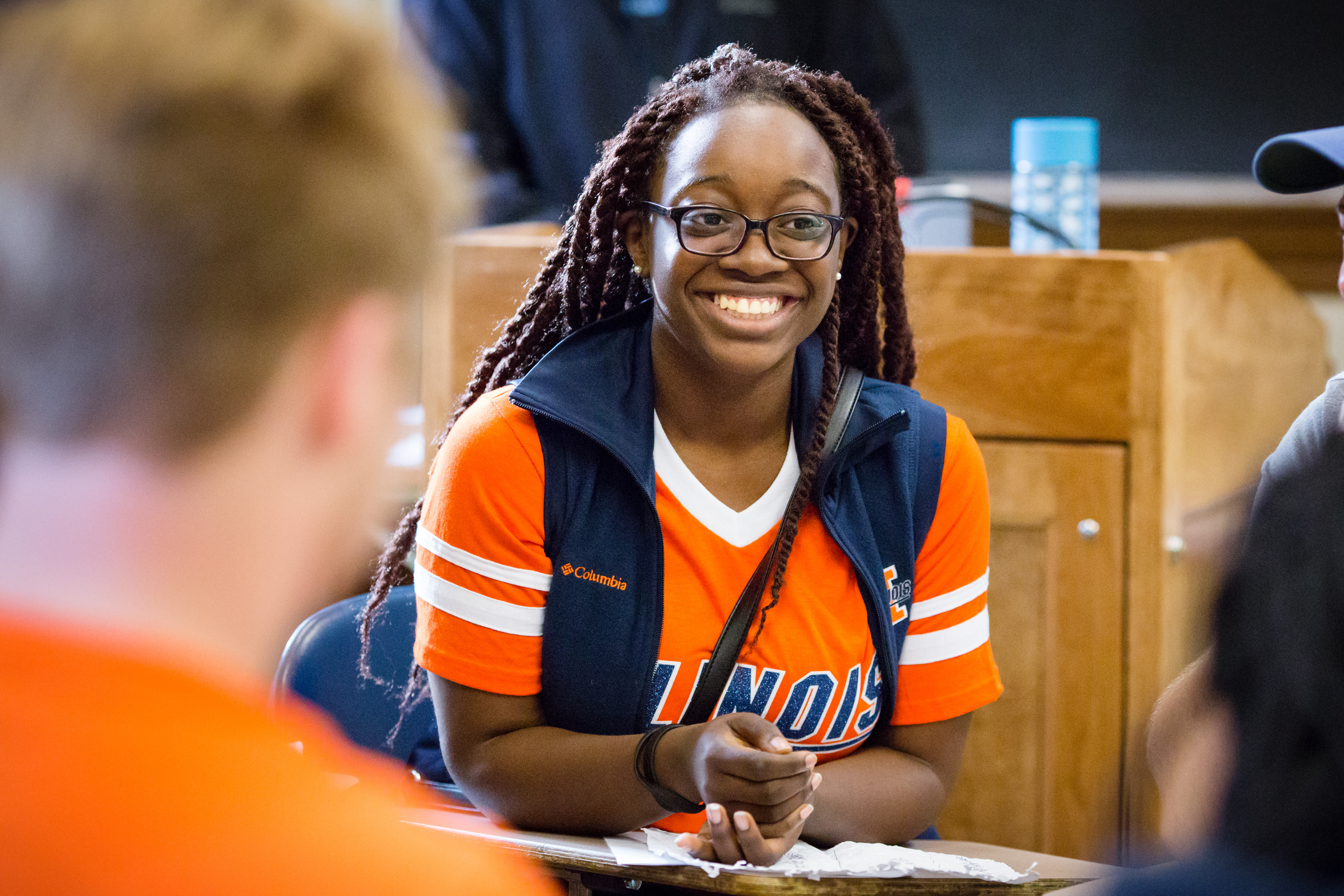 FAQs
To skip to a particular section, click on the links below
Licensure
Q: Who should I contact if I have questions about licensure?
A: cote-teachercertification@illinois.eduor 217-333-2804.
Q. When should I apply for licensure?
A. If you are completing an approved program at the Urbana campus you should apply at the beginning of the semester in which you will complete your program.
Q. Where can I get an application for licensure?
A. Applications are available through the Student Portal on the left-side menu.
Q. Can I print an application from the Illinois State Board of Education web site and submit that to the Council on Teacher Education?
A. No. You must use the application provided by the Council on Teacher Education.
Q. Must I have passed all of my licensure tests before I apply for licensure?
A. No. Submit your application even if you still have tests to complete. We can begin processing your application on the assumption that we will receive your test scores before the end of the semester.
Q. When I apply for licensure will the University provide the ISBE with my official transcripts?
A. No, it is your responsibility to provide the transcripts.
Q. I have completed a Special K-12 program and ELIS asks me if I would like to get a K-9 and 6-12 license instead. Should I do that?
A. You can if you wish, but there is no reason to do so and it will cost you extra. The information currently on ECS regarding endorsements is incorrect--you CAN add endorsements to a K-12 license.
Q. I graduated with licensure from the University of Illinois at Urbana-Champaign and am trying to get certified in another state. To whom do I send the form that needs to be completed?
A. You send the form to the Council on Teacher Education, 1310 South Sixth Street - Suite 130 MC 708, Champaign, IL 61820
Endorsements
Q. When do I apply for endorsements?
A. Endorsements are requested on a form when you turn in your entitlement request form nearing the completion of your program.
Q. Can I add endorsements to my teaching license after I am licensed?
A. Yes. Provided you qualify, you may add endorsements anytime during your teaching career. You will apply for endorsements through the Regional Office of Education where your license is registered.
Q. How do I know what endorsements are available and what the requirements are?
A. For middle school endorsements, go to the licensure pull-down at the top of this page and click on "Licensure Endorsements for Middle Grades (5-8)." For high school endorsements, check with Brenda Clevenger Evans or Jeff Buck at 217-333-7195.
Q. Can I use coursework from a community college toward endorsements?
A. Assuming the coursework applies, yes.
Q. How can I find out what requirements are to be certified in other states?
A. This link will take you to licensure offices for other states.
http://wdcrobcolp01.ed.gov/Programs/EROD/org_list.cfm?category_cd=SEA
Q. Does the Urbana campus offer course work to meet the requirements for a reading teacher endorsement?
A. Yes. You may view the requirements and the coursework we offer atwww.ed.uiuc.edu/ci/programs/readingendorsement.html
Q. When will I get my license and when will it expire?
A. Your license will be issued when you logon at ELIS, claim your license, and pay your fees. It will be valid until June 30th immediately following five years of being issued.
Tuition & Fee Waivers (TFW)
Q. What is a TFW and who gets it?
A. The TFW is a waiver of tuition and service fees for one term (semester). TFW are awarded to cooperating personnel such as teachers who host student teachers or Early Field Experience students.
Q. What is covered by a TFW?
A. Tuition, service fees, and McKinley Health Center fee for the term in which the TFW is applied.
Q. What is not covered by a TFW?
A. Application fee, medical insurance fee (which can be waived; see next question) and any laboratory fees incurred as part of a course.
Q. How can I get an exemption from the medical insurance fee?
A. Contact the Student Insurance Office (217-333-0165, insure@illinois.edu, or www.SI.illinois.edu).
Q. Who should I contact if I have questions about TFW?
A. Council on Teacher Education Office (217-333-2804) or cote-waivers@illinois.edu
Q. Are TFW transferable?
A. No
Q. Does receipt of a TFW entitle me to register for classes?
A. No. Receipt of a TFW does not imply admission to the University or guarantee admission to a particular graduate course. Admission is the responsibility of the colleges of UIUC and their various departments.
Q. How long are TFW valid?
A. TFW for cooperating teachers will be awarded at the end of the term of service, and may be redeemed in any one of the four terms immediately following the term of service. Thus, if a cooperating teacher hosts a student teacher (or accumulates the required number of hours of hosting EFE candidates) during the Fall term, the TFW may be used in any one of the following terms: Spring, Summer, Fall, or Spring.
Q. Can I use my TFW from UIUC at UIS or UIC?
A. Yes. Contact the Council on Teacher Education (see above) to process the transfer. (Note: At UIS, the TFW only covers up to four credit hours of tuition and fees)